5 impressive examples of trend radars on the web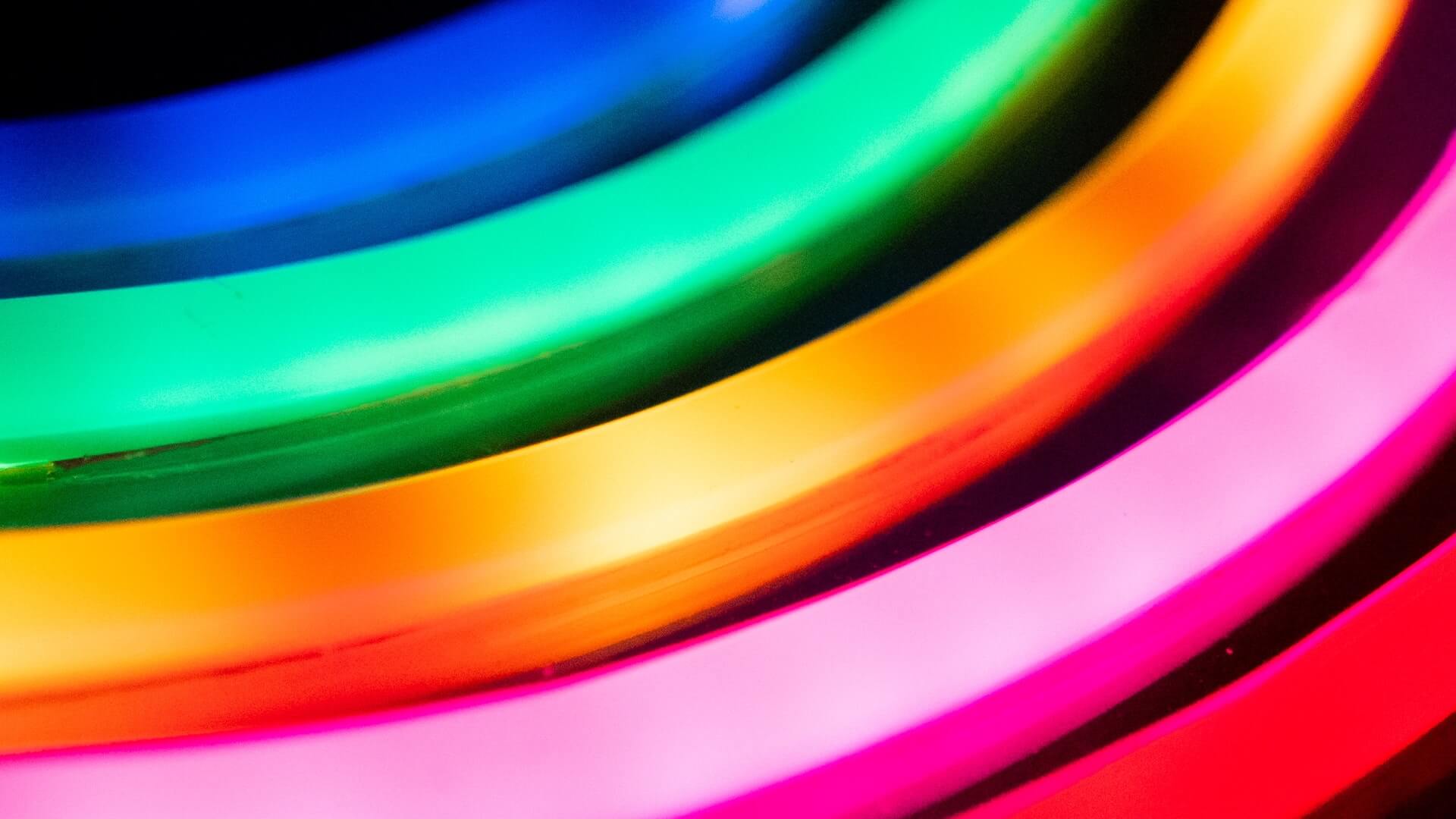 Have you considered publishing your company's future views as an interactive trend radar? You're not alone – right now publicly available trend radars are popping up all over the internet.
What was once a niche foresight methodology is quickly becoming a mainstream communication tool for innovative businesses wanting to share their views with a wider audience.
Why you should think about publishing your trend radar, too
The case for going public is clear. The main reasons for publishing your trend radar on the web are building thought leadership, supporting open innovation, and advancing strategic initiatives.
If you're looking for a tool to build your interactive radar with, check out the FIBRES trend radar builder, which supports flexible embed options for publicly sharing the results of your work.
Building thought leadership
Making your trend radar public is a great way to build your company's thought leadership. By being the first to publish a trend radar in your industry, you can become the go-to resource for future trends and technologies in that area.
For example, DHL has long been regarded as the reigning thought leader in the logistics space thanks to its publicly available trend radar.
Thought leadership is continuously built via social media evangelism and opinionated blogs, but a public trend radar is a way to summarize all that wisdom into one updated view that is sought out time and time again.
Supporting open innovation
Putting your views out there is an efficient way to attract the attention of potential customers, partners, colleagues, resellers, and other types of stakeholders, and invite them into a dialogue about the future.
Having an interactive radar on your website is like broadcasting "This is what we think about the future, come build the next big thing with us". A company that does foresight, is a company that shapes the future.
If you look at what companies themselves say about the reasons for publishing their trend radar, most bring up open innovation. Ideally, a public trend radar can work like a magnet that pulls new possibilities, opportunities, and positive challenges your way.
Take what BMW says on its trend radar page, for example:
"As part of the open access approach, these results will be immediately processed in the Trend Radar and made available externally, meaning scientific institutions, start-ups, and potential partners can use them."
Advancing strategic initiatives
A public trend radar can help move things forward internally in the company. Especially in large corporations, where the flow of information can be stiff at times, publishing your trend radar makes it more likely that your own people hear about it as well.
Collecting and assessing the most relevant trends in a public trend radar is like saying "These are our important future themes. What are we going to do about them?"
This is how E.ON answers the question "Why do they have a trend radar?" on their website:
"The aim of the Trend Radar is to look beyond the usual horizons of our business plans. It provides management at E.ON with strategic early warnings for disruptive developments, supports innovation and business teams to capture future opportunities, and provides insights about the future evolution of E.ON's customers, partners, and community."
Our favorite trend radar examples
1. DHL's Logistics Trend Radar
There can be no talk of public trend radars without mentioning DHL's Logistics Trend Radar. We've come a long way from the times when DHL's radar was the only one out there, but it's still hands down one of the best-known examples.
"The DHL Logistics Trend Radar is used like the North Star to navigate the future by our customers, partners, and colleagues and has now been in existence for nearly 10 years," explains Klaus Dohrmann, VP Head of Innovation Europe, DHL Customer Solutions & Innovation.
The Logistics Trend Radar explores upcoming trends in the logistics industry. Notably, the radar explores social and economic trends in addition to purely technological trends, underpinning the fact that societal demands and needs can also shape the logistics industry and disrupt current business models.
The DHL Logistics Trend Radar is updated every two years, with the 2022 update marking the radar's 10-year anniversary.
"Not that we don't expect it, but because we are constantly amazed by its reach", says Jordan Toy, Trend Radar Editor-in-Chief and innovation manager, in an interview made for the 10 year anniversary of DHL's Logistics Trend Radar, further underlining the case for making your trend work public.
Open the Logistics Trend Radar →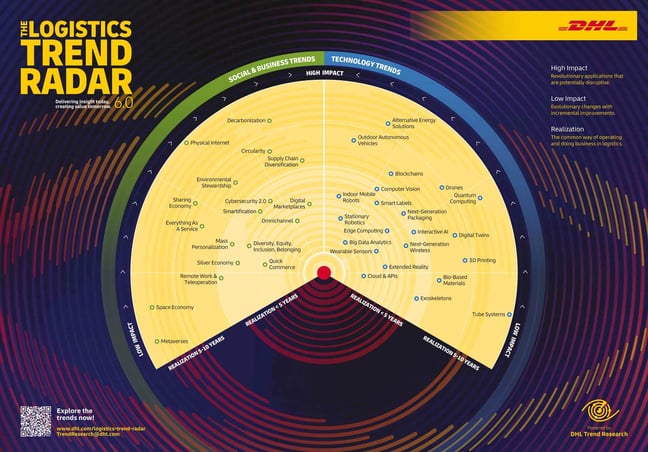 2. BMW's trend radar
One of the latest additions to the collection of publicly available radars is BMW's trend radar, published in late 2022. The automotive company's trend radar has immediately garnered lots of positive attention, and rightly so.
In their own words, The BMW Group Technology Trend Radar gives an insight into the most relevant cross-industry tech trends that are significant for the BMW Group and the automotive industry in general.
"By openly publishing our Tech Radar, we want to start a dialogue with potential partners. Research and development do not work without an outside-in perspective" says Frank Weber, Member of the Board of Management for Development at BMW AG in the radar's release interview.
The radar looks at trends that have a suspected relevance for the BMW Group in general, trends that serve the purpose of enabling innovations in the fields of IT, R&D, and production, and trends that are likely to become established in the near future.
BMW's trend radar is the fruit of the labor of scouts from BMW's Technology Offices worldwide who work to identify the most interesting technology developments from manufacturing and science, hinting at a larger scale foresight process taking place in the background.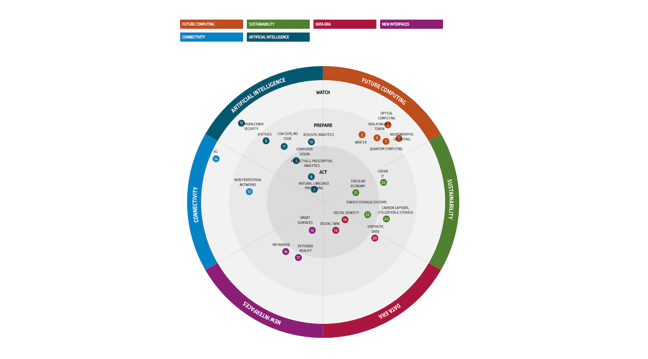 3. Steve Well's Life, Society, and Business trend radar
Another impressive example of a public trend radar is futurist Steve Wells' trend radar.
Unlike DHL's and BMW's radars, which drill down on the future of an individual industry, Steve's radar is designed to explore a broad range of trends, drivers, and weaker signals. The radar prompts its viewers to ask big questions: How might we work on reinventing the future of life, society, and business?
The foresight consultancy Informing Choices founder published the first version of his radar earlier this year, and updates his radar frequently, with the latest additions from just a few weeks earlier.
"There's a lot more I am planning to add, including from previous research so it's an ongoing project to develop a Trend Radar with a wide breadth of future factors. What is and has been interesting is how doing this work has led me to a more continuous approach in my foresight research", Steve writes in a Linkedin post.
Open Steve Wells' trend radar →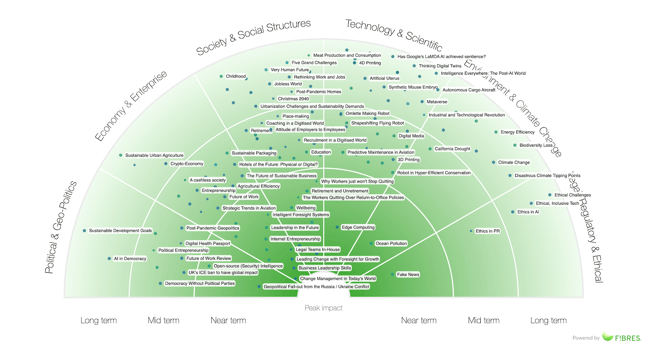 4. E.ON's Trend Radar
E.ON's Trend Radar identifies new topics anticipated to impact the world of energy and beyond. Split into four sections for the Future of Energy, the Future of Life, the Future of Work, and the Future of Society, the trend radar explores key topics shaping tomorrow.
On their website, E.ON states that the "Trend Radar, as a developing picture, is an opportunity for discussion: How will trends develop? Which topics will come up? And how will markets and society itself be shaped as a result?"
"Scanning the horizon for emerging change, analyzing trends, and anticipating developments help us reveal and discuss what shapes the future of energy – and to develop future-ready business for the benefit of our clients, stakeholders, and society," says Thomas Birr, E.ON's Chief Strategy and Innovation Officer in an interview on their website.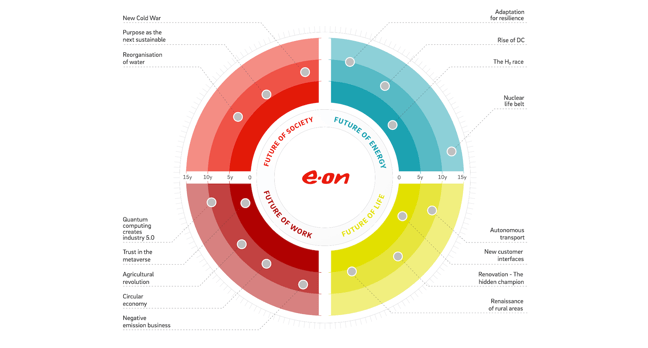 5. Munich RE and Ergo's Tech Trend Radar
"We are constantly on the look for new relevant trends", says Martin Thormählen, Chief Technology Officer at Munich Re.
Their trend radar looks at fast-paced technology developments that keep challenging the insurance industry.
The Tech Trend Radar is a joint effort from two major players in the insurance field, Munich Re and ERGO, and has been published since 2013. They've aggregated and rated technology trends in order to provide a comprehensive view of their maturity and relevance for the insurance industry.
The interactive report is structured along five trend fields: well-being, hyperconnectivity, data & AI, cyber & crypto, and emerging Industries.
"First of all, we want to provide inspiration and ideas for the internal digitalization and strategic development of Munich Re and ERGO. Our clients then benefit indirectly from this. At Munich RE, we also discuss the trends with interested board members, product developers, and underwriters from our primary insurance clients and speak at conferences. Here we inspire the participants and also explain the concrete solutions we have developed in the meantime - from trends to solutions," says Martin Thormählen, Chief Technology Officer, Munich Re, in an interview about the trend radar.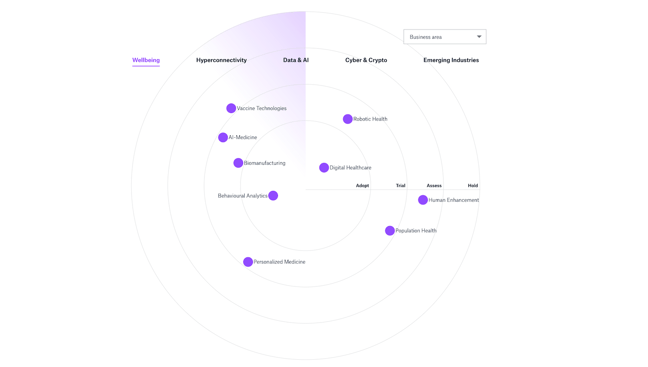 In summary
Public trend radars are being popularized by corporate foresight teams and independent futurists making their trend research available to all.
The gains are clear both internally and externally. Creators of acclaimed radars can become thought leaders. For corporates, there are the added benefits of accelerating internal innovation around key topics and issuing an open invitation for other parties to contribute.
For starting your own trend radar work, you can see our beginner's guide on how to build your own trend radar. The guide goes into more depth on trend radar layouts, different tools for building your radar, and the process of identifying trends for your radar.
Have a trend radar worth adding to the list? Tweet to us @FibresOnline.
Milla Lappalainen is head of marketing at FIBRES. She's excited to learn foresight best practices from the top organizations in the world already running their own foresight workflows and to share those learnings with others.
Stay in the loop
Get our latest foresight tips delivered straight to your inbox. You may unsubscribe from these communications at any time.