Store signals in one convenient location
With FIBRES foresight software, a lot of content for your market intelligence may come from your own users, or from your internal data sources that we integrate with.
Cumulate content in one database
House all your trend data under one roof. Easily add content from various sources, and invite others for crowdsourced inputs.
One-click content additions
Store any online article to FIBRES with just one click with the FIBRES web clipper! View, comment, and annotate content directly on the platform.
Simple content templates
Managing trend items is easy. Just click to estimate impact strength, timing and impacted domains, and the data will be automatically shown on your trend radar.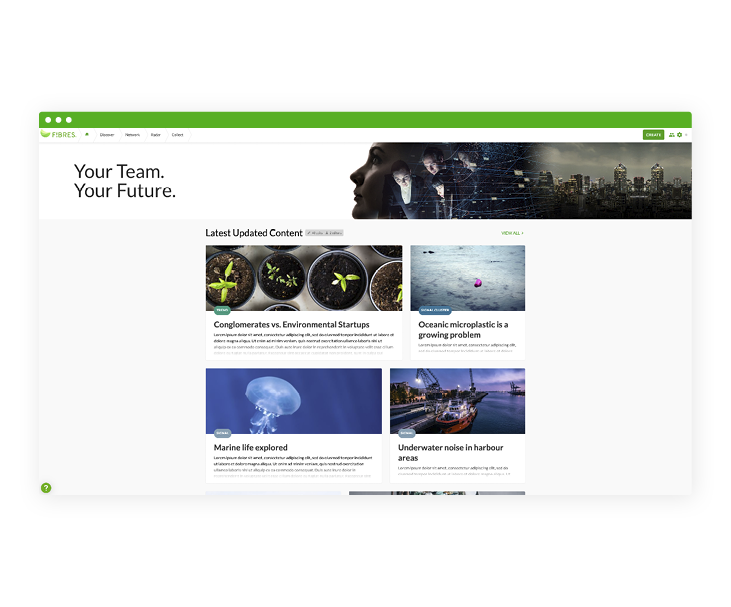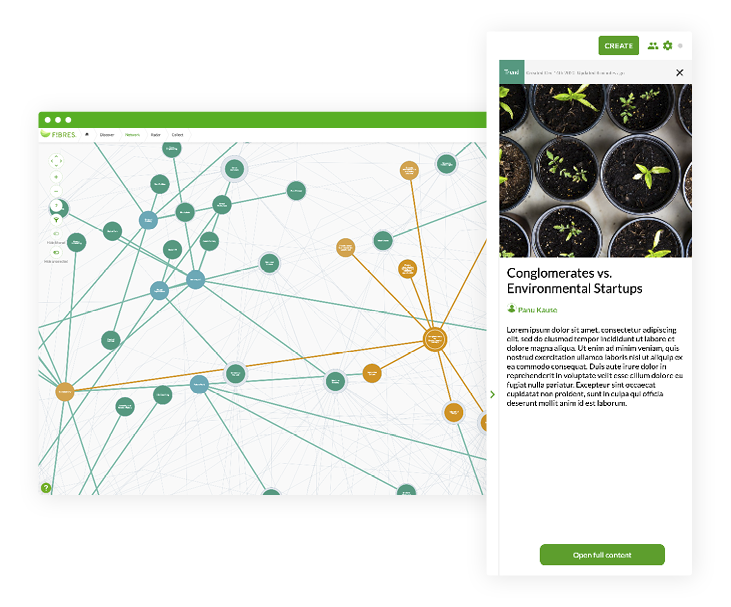 Easily connect and cluster inputs
Create a clear picture of trends that impact your business. Features of our foresight software make connecting and clustering incoming inputs simple and fun.
Content linkages
Creating connections between content will help you and your colleagues navigate through data, and to elaborate over the possible impacts for your business.
Natural language processing
Get suggestions on possible content linkages based on automated natural language processing. Easily spot unlinked content so that signals don't get lost in the haystack.
Flexible content structuring
See the forest for the trees with FIBRES' content structuring options. Mark a content piece as a signal, signal cluster, trend or megatrend with a click of a button – and restructure when needed.
Share foresight within your organization
FIBRES' beautiful summary views inspire strategic discussions, and help bring foresight into the heart of business development and innovation.
Easily communicate the summary understanding of high-level trends headed your way at one glance. Automatically created based on the trend impact assessments made by you.
Trend Network
Visually explore all the content and linkages in your FIBRES! A feature loved by many of our customers for discovering the vast array of trends and interconnected news.
Custom data collections
Hand-pick content for different groups, e.g. domain-specific summaries for business development experts, or alternative future scenarios for strategy teams and board members.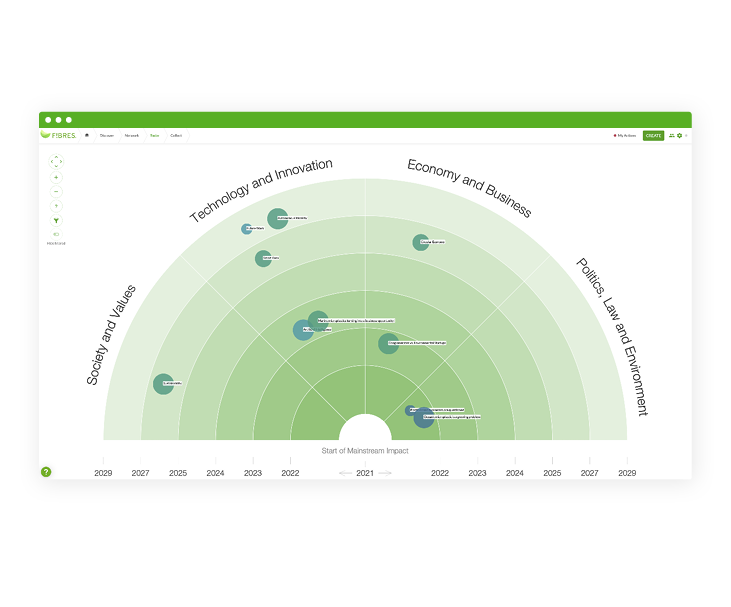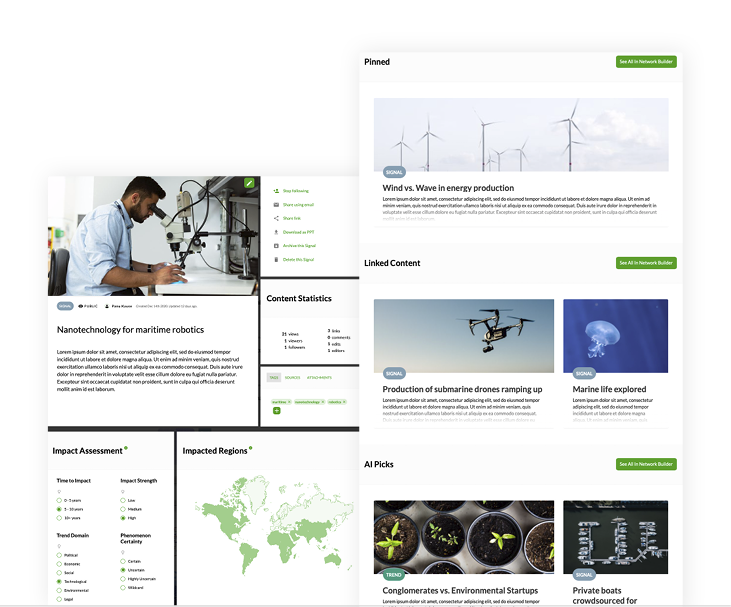 Leverage external trend data
Perhaps you would also wish to gain external inputs into your FIBRES Account from the entire web or from commercial trend research providers and databases?
FIBRESEED tailored inputs
Gain pre-filtered feeds and intelligent content suggestions from the entire open web! With the FIBRESEED premium service, we can set you up for automated inputs so that you never miss a thing.
TRENDONE TrendExplorer integration
Get globally sourced and curated trend data inputs for inspiration. This includes 120+ trends and 30 000+ real-life examples written by experts, continuously updated right in your FIBRES Account.
MAPEGY Innovation Graph integration
Make use of automated inputs from, and visual queries into this AI-built database of billions of articles, research papers, patents, companies, and more! All fully integrated on your FIBRES Account.
YOUR favourite sources?
Bring all your existing sources together with FIBRES, and connect the dots on this one platform! We will gladly integrate with new commercial providers, and even with your internal data sources.
Would you like for me to show you how FIBRES works? Please contact me and let's set up a demo!
Panu Kause
CEO
+358 40 838 4603
panu.kause_at_fibresonline.com