What are the best practices for building in-house foresight capabilities?
Join the webinar on March 4th at 9 a.m. EET to find out.
What
Webinar with FIBRES Online CEO Panu Kause
When
Thursday March 4th from 9 to 10 a.m. EET (GMT +2)
Who
CEOs, foresight managers, heads of strategy, innovation managers, insight managers, and other leaders who want to harness the power of continuous and collaborative foresight for business development.
Why
To honor the World Future Day (March 1st) and the Finnish Futures Day (March 5th).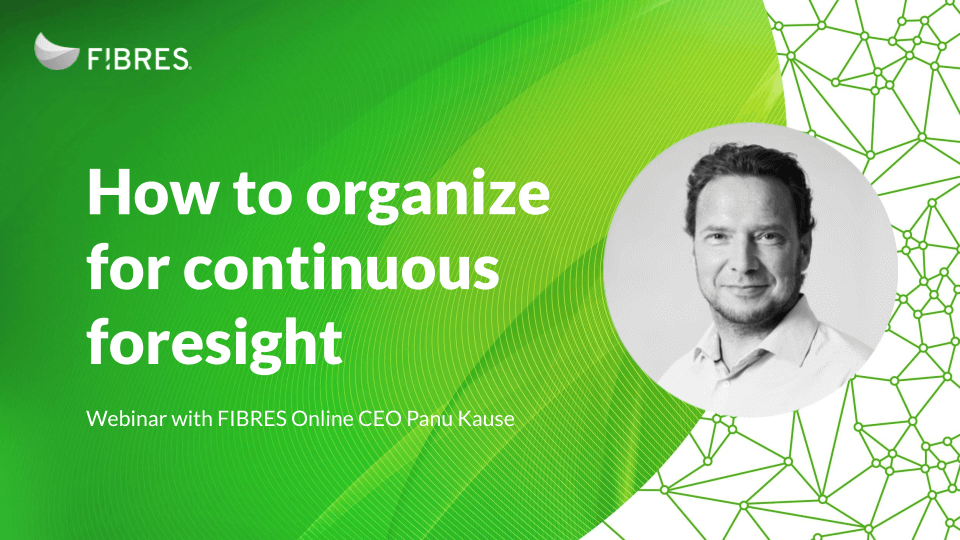 You know staying on top of your changing market environment is crucial. But how to engage your organization for collaboration over new insights in practice?
We distilled our experience into this 60-minute webinar so that you could start heading for efficient foresight within your organization today.
Expect to learn
What corporate foresight actually is and how it should be done in a business setting? [DEFINITION]

What do organizations happy with their foresight efforts do differently compared to others? [BEST PRACTICES]
How the different parts of foresight work processes really should be organized for? [FRAMEWORK]
Which roles are needed to run a collaborative and continuous foresight process? [FRAMEWORK]
What challenges companies typically face in their foresight work, and how to avoid pitfalls? [LIVE Q&A]
Join the webinar by filling the form
By approaching us with your details, you agree to us contacting you because we have reason to believe you are interested in what we have to offer. By submitting this form, you also subscribe to the FIBRES Newsletter. You can unsubscribe from the Newsletter at any time by using the opt-out features included in all such emailings from us. For more details, please see our Privacy Policy.
Introducing the speaker:
FIBRES CEO Panu Kause
Panu is a former corporate executive and consultant, who has helped dozens of organizations go towards continuous and collaborative foresight. He is familiar with best practices and also with the most common challenges organizations face on their path.
"Great enthusiastic attitude and good reflections on audience comments!"
"It was a great pleasure to listen Panu lecture even for longer times. A really captivating speaker, which is a great talent!"