WEBINAR
How to lead with foresight
Foresight has become a critical leadership skill in the 21st century. In this webinar, futurist Steve Wells and FIBRES CEO Panu Kause discuss how to develop foresight capabilities in your organization.
The webinar is now available as a recording
It was originally aired on June 10th, 2021.
Foresight as a leadership skill
Why has foresight become such an essential tool in the modern leader's toolkit?
The foresight mindset
What is the mindset a leader and an organization should adopt towards foresight and how to get there?
Making an impact with foresight
How should foresight be connected with change programs for greater impact?
Introducing the speakers
Futurist Steve Wells
Steve Wells advises global clients on the transformative potential of megatrends and disruptive technologies,

He has a particular focus on adopting new mindsets, new models of leadership, collaboration, and innovation required to sustain and differentiate brands in a rapidly changing reality.
FIBRES CEO Panu Kause
Panu has helped dozens of organizations with continuous and collaborative foresight

He is familiar with best practices and also with the most common challenges that organizations face on their path.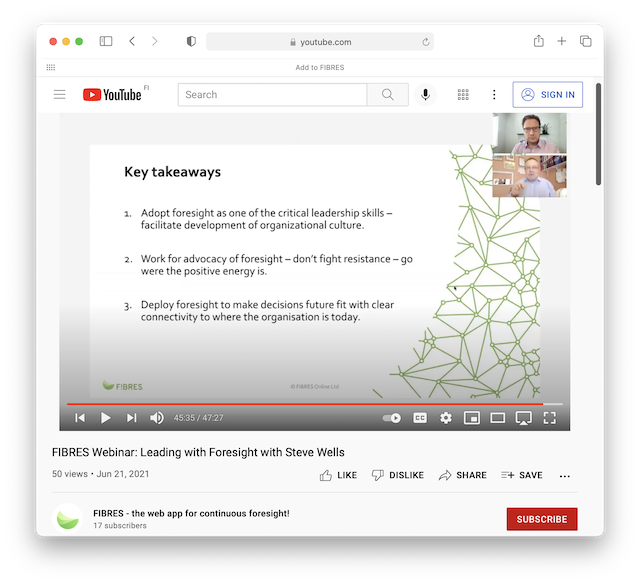 Be the first one to hear about our upcoming webinars
Sign up to our newsletter. We'll send you one email per month.