FIBRES seamlessly integrates with multiple data sources, like the open web, databases of commercial third party data providers, and even with your internal data sources on a case-by-case basis.
By activating some of such data sources for your FIBRES Account, you can:
Diversify inputs made by your team with automated inputs
Get recommendations on the topics you are already working on
Find completely new topics for your foresight work
Get automated inputs from your internal tools, like intranets

Data sources integrated with FIBRES

FIBRESEED – AI recommended inputs
FIBRESEED is a premium service that we have created for our customers. FIBRESEED brings data inputs from a large set of hand-picked RSS feeds, from continuous queries into the massive GDELT database, and via dedicated web crawlers where need be.
With advanced language technologies, FIBRESEED recognizes topics you are working with and recommends additional content to deepen and diversify your foresight work.
Topics monitored by FIBRESEED are constantly updated based on our customers' wishes. Currently, FIBRESEED continuously monitors the following themes:
Artificial intelligence
Autonomous vehicles
Future of work
GRC (Governance, Risk management, and Compliance)
Internet of things
Logistics
Nanoengineering
Retail
Robotics
Smart cities
Smart materials
Sustainability
Travel
Urbanization
Wellbeing and health
With FIBRESEED enabled, you'll see recommended inputs under AI Picks at the end of each of your FIBRES Articles. With a few clicks, you can add these inputs into FIBRES and link them with your existing findings.

TRENDONE – curated trends by analysts
TRENDONE TrendExplorer is a curated database of 40 000 trending topics with new content added every month:
Ready-written Megatrend descriptions
Ready-written Trend descriptions
Thousands of Signals - real-life examples and manifestations of emerging or ongoing phenomena
With the TRENDONE add-on service activated, all of TRENDONE's existing and new data on trending topics will show up right beside inputs created by your own team in FIBRES. For example, all of them can be found via the Discover view:
The TRENDONE data also includes ready-made linkages between items, and FIBRES automatically identifies even additional underlying Signal linkages. All of these are automatically shown on the FIBRES Network view:
TRENDONE sample data
During your 30-day free trial of FIBRES, you can start with a TRENDONE sample data set of some 200 Megatrends, Trends, and Signals in total. Just choose this option when signing up for the free trial.
If you didn't opt for this option while signing up for the free trial, please contact support@fibresonline.com, and we'll set up the sample data set for you.
Get a glimpse of the TRENDONE data →

MAPEGY powerup – visual searches into a massive database
The MAPEGY InnovationGraph is a unique database that contains information on publications, like news articles, patents, research papers, organizations, like companies, universities, startups and investors, and experts, like inventors, researchers, and managers.
With the MAPEGY powerup, you can explore all the InnovationGraph data right inside FIBRES with 25 visual tools, including:
Trend Wordcloud

Trend Charts

Forecasts

Topic Map

Organizations Map

Patents

Scientific publications

Podcasts

Projects

Standards

Startups

Inventors

Researchers
Read more about the MAPEGY InnovationGraph Database →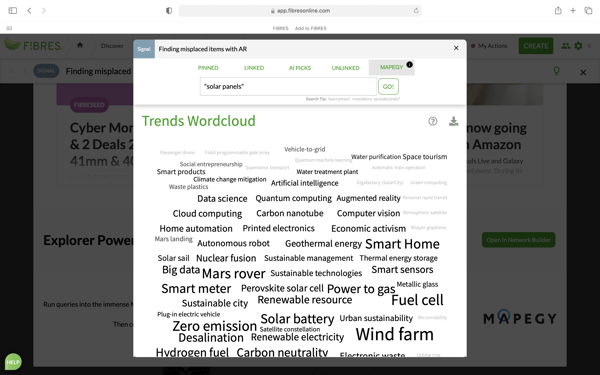 How to integrate your sources with FIBRES?
We are constantly growing our portfolio of available data sources. At your request, we are happy to integrate FIBRES also with your favorite sources.
These could be, for example:
RSS feeds or plain news sites
Commercial data providers and their databases
Even your internal sources, such as intranet discussion forums or CRM

How to set up data sources for your FIBRES Account?
If you want to set up a new data source or discuss your data needs, please book a quick meeting with us. You can also contact us by email at support@fibresonline.com. We are also happy to provide trial periods for all our existing data sources and powerups.

Questions about data sources?
Please reach out to us by email at support@fibresonline.com.